Qatar and Indonesia: Exploring new business sectors
As a G20 member from South-East Asia with a stable government, Indonesia is a promising economy and the venue of two of Qatar's prominent investments in the telecom and the banking sectors. In an exclusive conversation with The Edge, Deddy Saiful Hadi, Ambassador of the Republic of Indonesia to Qatar talks about how he plans to increase the level of cooperation between Indonesia and Qatar.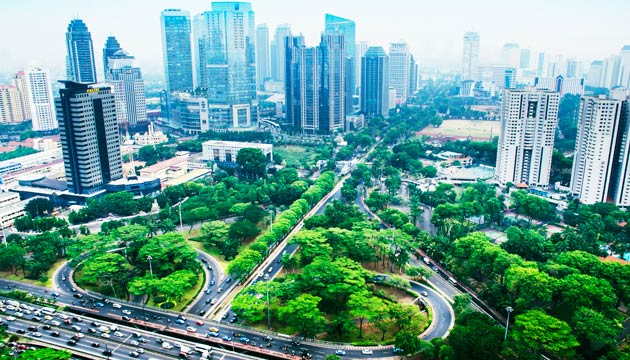 In 2012, Jakarta's imports from Qatar, mostly in the energy sector was USD1.59 billion (QAR5.8 billion) while its exports to Qatar, comprising mainly home appliances, food products and automobile parts, were worth USD92.7 million (QAR337.4 million). (Image Corbis)
Indonesia's gross domestic product (GDP) has been increasing at a rate of nine percent every year since 2009, which makes it one of the better performing South-East Asian economies. However, this positive GDP growth has not altered the way Deddy Saiful Hadi, Ambassador of the Republic of Indonesia to Qatar looks at the dimensions of bilateral relations. For him, interactions between two countries do not hinge on the economic peg alone, but are based on three main areas – political, economic and social. 
Commenting on the political dimension of the relations between Indonesia and Qatar, Hadi says that in the realm of politics, there are no issues between Qatar and Indonesia, adding that even though Indonesia is not an Islamic country, it has the largest Muslim population in the world. "There are 240 million people living there and 85 percent of them are Muslim so that is massive. Both countries are very active in their foreign policies. "Qatar," Hadi adds, "is actively contributing to the political dynamics in the Middle East, specifically within the Gulf Cooperation Council countries." Indonesia, according to him is one of the biggest economies in the South-East Asian market and among the Association of South-East Asian Nations (ASEAN). "We are also an active member of the Asia Pacific Economic Cooperation," Hadi says, elaborating, "So both our nations have a similar psychology as far as foreign policy goes." 
Having the largest population and land area among the South-East Asian nations, Indonesia is also responsible for a third of the combined GDP of the 10-nation bloc, ASEAN, says Hadi. 
Economic cooperation 
In 2012, Indonesia's imports from Qatar, mostly in the energy sector was USD1.59 billion (QAR5.8 billion) while its exports to Qatar, comprising mainly home appliances, food products and automobile parts, were worth USD92.7 million (QAR337.4 million). These figures show that there is scope for increasing the economic and trade balances between the two countries, especially when it comes to Indonesia's exports to Qatar.
Qatar has two prominent investments in Indonesia – Ooredoo's majority stake in Indosat, one of the largest telecom companies in the country and QNB's accquisition of a majority stake in Bank Kesawan, primarily an investment bank, branding it as QNBKesawan.
"Qatar has also set up an investment fund worth QAR3.64 billion  in Indonesia with a focus on mineral resources and infrastructure projects."
Talking about Qatar's investments in Indonesia, Hadi says, "Indosat is Indonesia's second largest telecom provider, providing telecom service for a large percentage of the 240 million people that live there. It is a very good investment decision that Ooredoo made, especially since there is an increase in the size of the middle class, which has brought mobile telephony within the reach of a large number of people
in Indonesia." 
Soon after Ooredoo's investment came QNB's acquisition of Bank Kesawan and post QNB's acquisition, the number of the bank's branches has doubled, showing a positive growth story.  
Qatar has also set up investment fund worth USD1 billion (QAR3.64 billion) some time ago with a focus on mineral resources and infrastructure projects, and has repeatedly reiterated its interest to increase cooperation with the Indonesian economy, mainly to level the trade balance between the two countries.
Indonesia is now pushing its 'Masterplan for Acceleration and Expansion of Indonesia's Economic Development,' a directive for the country's economic development that started in 2011 and runs up to the year 2025. This programme identifies six main economic corridors as growth centres located in Java, Sumatra, Kalimantan, Sulawesi, Bali and Papua, of which Sumatra has been identified as the place for processing the country's natural resources and energy reserves.  It is in these corridors that Indonesia hopes to find Qatari investors. 
An investment or a partnership in the downstream oil and gas business could be a major step for Qatar to intensify and strengthen its ties with Indonesia,
adds Hadi. 
Apart from the scope for economic cooperation, for Hadi, Islamic education is one area that he is pushing his government on. For him, though traditionally the place for Islamic studies was Cairo, with the Qatar Faculty of Islamic Studies open within the ambit of Qatar Foundation, Hadi is projecting Qatar as the next-best destination after Cairo for Islamic studies, though he adds that there are other branches of study that Indonesian students can explore here as well.
Diplomatic milestones 
Qatar opened its embassy in Jakarta in 1997 and Indonesia opened its embassy in 1999 in Doha, though relations between the two countries have been warm since 1976, according to Hadi.
There have been a series of diplomatic visits between the two countries. The president of Indonesia Dr. Susilo Bambang Yudhoyono visited Doha in April 2006, and HH the Emir of Qatar Sheikh Hamad bin Khalifa Al Thani visited Jakarta in May 2009. In November 2011, HE Sheikh Hamad bin Jassim bin Jabor Al Thani, prime minister and minister of foreign affairs attended the Bali Democracy Forum and held bilateral talks with the president of Indonesia. 
With Indonesia now having taken up membership of the G20, there have been discussions among international analysts pegging Indonesia as one of the emerging economic powers of the South-East Asian region. Commenting on these discussions and the impact it may have on the bilateral relations with Qatar, Hadi says, "Indonesia is confident that we are on the right direction as far as economic development. In our relations with Qatar, it gives us the confidence that the investments that Qatar has made in Indonesia are in the right place, and all the economic stability in my country is also a kind of invitation for Qatar to add to their investment basket in the future."
Construction companies
In the run up to the FIFA World Cup 2022 especially with the huge infrastructure growth that Qatar has planned, Hadi is hopeful that he will see more Indonesian construction companies coming to Qatar.
"We have been trying since my arrival here to invite the Indonesian construction companies especially as there are huge opportunities within the infrastructure sector. One of the largest Indonesian construction companies has already come here twice to see the Qatar construction sector and map some numbers. Now, they are probably calculating and looking into ways they can contribute here." 
Hadi continues that the construction and real estate growth in Qatar opens up many opportunities for ancillary industries in Indonesia. "I will inform companies back home that there are enough prospects not only in the construction sector but also in the other associated sectors here in Qatar." His logic is that the huge construction activities that are going on or have been planned will require ancillary support, which means that furnishing, interior design and many other sectors will have opportunities for Indonesian companies in Qatar.  
Indonesian professionals
A majority of Indonesian citizens who are based in Qatar are in unskilled or semi-skilled jobs. When asked if Hadi has plans of increasing the number of professional workers, he says, "This is another very interesting question because sometime back, the chairman of the National Board of Policing and Protection of Indonesian workers visited Qatar and met some relevant stakeholders here. They agree with me that there are many opportunities to increase the number of professional workers in Qatar especially since it has been proven that Indonesian professional workers in Qatar have been positively contributing mainly in the oil and gas, as well as in the
hospitality sectors."
Hadi also talks about the personality traits of Indonesians that make them welcome in a foreign land. "I think it is natural for Qatar to want Indonesians because they are
hard-workers, loyal and humble, all of which makes it easy for them to be acceptable in a foreign country." 
Like this story? Share it.