Ooredoo AGM approves legal name change and the distribution of 50 percent cash dividend
The Annual General Meeting of Ooredoo (Qatar Telecom (Qtel) Q.S.C.) has approved the recommendation of the board of directors to distribute a cash dividend of 50 percent of the nominal share value (QR5 per share).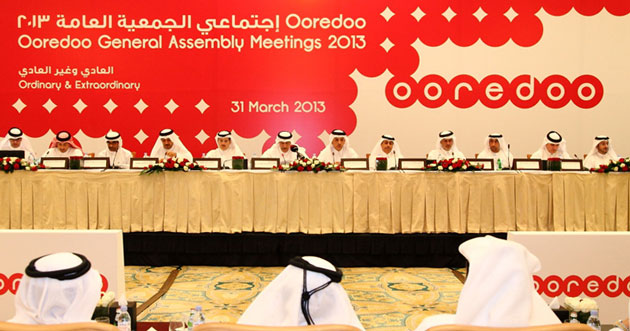 At the AGM the company also approved its official change of name from Qatar Telecom (Qtel) Q.S.C. to Ooredoo Q.S.C.
 HE Sheikh Abdullah bin Mohammed bin Saud Al Thani, chairman of Ooredoo, spoke of the achievements of the company in 2012 and note that, "2012 was a remarkable year for the company. We delivered the strongest results in company history. As we take our company to the next level, we will be able to leverage our combined resources to even better serve our customers and deliver to our shareholders."
Ooredoo is one of the fastest-growing communications companies in the world by revenue, thanks to diversification and ongoing growth in mobile data and broadband services, with market capitalisation of QR 33.31 billion.
Ooredoo's revenue increased by 6.2 percent from QR 31.8 billion in 2011 to QR 33.7 billion, with more revenue coming from mobile data and business communication services. In total, 81.6 percent of Ooredoo's revenue now comes from outside of Qatar, with healthy increases in revenue from operating companies in Iraq, Algeria, Qatar and Indonesia supporting a record-setting performance in its home nation.
Net profit attributable to shareholders also grew from QR 2.6 billion to QR 2.9 billion during the same time period. Meanwhile, Ooredoo's earnings before interest, taxes, depreciation and amortisation (EBITDA) increased by 5.1 percent from QAR 14.8 billion to QAR 15.5 billion, with EBITDA margin posting a solid 46 percent.
The company's consolidated customer base grew from 83.4 million by the end of 2011 to 92.9 million by the end of 2012. It has also continued to invest in key operations, increasing ownership in Kuwait's Wataniya and its operations from 52.5 percent to 92.1 percent, and Wataniya and Ooredoo's stake in Tunisia's Tunisiana was increased from 75 percent to 90 percent. Ooredoo also increased its stake in Iraq's Asiacell from 30 percent to 64.1 percent, as of 4 February 2013. In addition, it successfully completed Asiacell's IPO in February 2013.
Like this story? Share it.