The price of Qatar's high road accidents
Qatar now has the dubious distinction of the highest global rate of road accident fatalities.
In slightly more than a decade, Qatar's rate of traffic accidents and resulting injuries and deaths have increased by 160 percent and as reported in a recent study by Qatar University, Qatar Traffic Department, and the Qatar Statistics Authority (2012). Predictions for 2015 are even more worrisome, as traffic accidents in the country are expected to reach 220,000, with one out of five cars destined to be involved in a car accident each subsequent year.
The cost to the country, of course, is obvious and enormous. But what is less known is that on a macro and statistical basis, road accident, and injury and fatality rates are empirically linked to growth in a country's gross domestic product (GDP) level. This comes as no surprise to experts and academics in related fields, as this phenomenon is linked to Smeed's Law. Briton R. J. Smeed was a forerunner of modern road accident research, who in the late 1940s came up with a formula to estimate or predict road fatalities by linking the population and registered vehicles in a country.
"As transportation safety is an important foundation to achieve sustainable human development, the state has accorded it top priority." – Brigadier Mohammed Abdullah Al Malki, secretary of Qatar's National Committee for Traffic Safety.
Broadly, Smeed's hypothesis also postulates that as a country becomes wealthier, traffic accidents increase to a certain level, after which they become a national concern and are dealt with by the country, leading to their decline.
Is Qatar at Smeed's road safety tipping point? Clearly there is a huge problem here, which the authorities are taking unprecedented steps to overcome, but may take many years if not more than a decade to overcome. However, with the launch of the Qatar National Traffic Strategy in early 2013 in conjunction with GCC Traffic Week, and the recent launch of a fleet of 44 Al Fazaa highway patrol vehicles, Qatar is obviously taking measures towards protecting lives, lowering costs, and raising awareness of the problem of road safety. 
But what many feel also needs to be looked at in greater detail is the design of the road system (with special regard to pedestrian safety), uniformity of cultural sensitisation of the driving population and coordinated data mining to help arrive at the costs to GDP that road accidents cause, apart from the loss of life. Are the state's current efforts paying off? What is the future vision? These are some of the pressing questions.
Indeed, the issue in the country is also unique in many ways, making dealing with the issue a major challenge on many fronts and incomparable to other nations, except perhaps some Gulf states such as Kuwait or the UAE. Generally, traffic problems in Qatar can be attributed to the remarkable increase in number of cars in recent years, the inability of the current road system to accommodate the country's growth, with virtually no pedestrian-friendly roads, perhaps more than 100 nationalities driving here, many of whom often do not understand road signs in Arabic or English, and to put it diplomatically, have mismatched driving skills at best, along with extremely reckless driving by a minority. Driving instruction, too, has been highlighted as an area for improvement.
With highest global rate of road accident fatalities, is Qatar at a road safety tipping point? Clearly there is a huge problem here, which the authorities are taking unprecedented steps to overcome.
"A whole lot of the driving behaviour that we encounter here has to do with cultural factors," says Katmerka Kurtovic, business development manager, simulator systems, Williams Advanced Engineering, Qatar, to The Edge (see simulated driving box out). "On the difference between right and left-hand drive, between what is considered okay driving behaviour and what is non-negotiable…it is during the road practice that these cultural sensibilities need to be handled through, for which even the instructors need to be sensitised." 
Exacerbating the problem is the fact that owning a car in Qatar is affordable for almost everyone, especially with the relatively low governmental fees on cars, low cost of fuel, lucrative car loans, and that many employers offer interest-free car loans as perks.

People who value expensive cars can easily find their desired vehicle – which are often in the several luxury car galleries in Doha. Expatriates can also enjoy driving a car at lower cost than in their country of origin. Over the past decade, this contributed to the huge increase in the number of registered cars in Qatar, by 5.5 percent annually, which according the Qatar Statistics Authority was 814,373 in 2011, placing it around one million currently, based on the same growth trend.
Moreover, many roads in Qatar were designed some decades ago to accommodate a far lower number of cars. This has meant that the road system clearly cannot manage the rapid growth of the country. Adding to the congestion, construction sites abound and heavy construction machineries are often found on the roads, blocking traffic and causing onerous jams – as do ubiquitous road works, which can be haphazardly signposted and poorly coordinated. 
Economic Impact
Professor Abdulbari Bener is a senior consultant and head of the department of epidemiology and medical statistics at Hamad Medical Corporation (HMC). A consultant to the World Health Organization (WHO), Bener is arguably one of Qatar's preeminent scholars in the field of road accident research. 
A study conducted by Bener and colleagues, on road traffic crashes and injuries in Qatar as reported by drivers, published in 2012 in the Journal of Egyptian Public Health (which had a sample size of 1762 drivers selected randomly among patients registered for daily visits), showed that young drivers in the age group of 25-34 years had the highest prevalence of road traffic injuries (RTIs) in Qatar. 
The effect of road accidents to Qatar's GDP could well be in excess of QR 10 billion annually, based on the formula used to determine WHO global estimates of road accident costs to international GDP.
Bener's research revealed that driving too fast remains the major cause of casualties in Qatar despite a slight decrease in the number of fatalities. But his study also showed that human behavioural factors including the use of cell phones, eating and drinking and traffic violations represented some of the main causes of RTIs, and as do reckless driving practices such as texting while driving. 
Bener also stressed that the numbers revealed by the authorities may not be wholly accurate as when compiling the study, "there was absence of coordinated data mining whereby the police have a certain segment of the data," he states, "which pertains to the cause of an accident, but when it comes to the fatality figure, there is no central data bank, with HMC classifying any death beyond a certain period after an accident as a natural death."
According to Bener, there are four factors that go to make up the cost to GDP that road accidents cause. "Rehabilitation costs (whereby many Qatari nationals are sent on state costs for rehabilitation to either Europe or the US), family dislocation, productivity loss and trauma go to make up the components while compiling the actual cost to GDP," he says, adding "though, in the absence of any figures that go to make up these components, it is difficult to estimate a firm figure."
In Bener's opinion, with healthcare insurance still not compulsory for Qatari nationals, the expenses on road accident cases are expended out of the health budget, again an instance where coming up with a cost to the state exchequer is virtually impossible. 
Nevertheless, basing Qatar's approximate figures on the same formula used to determine WHO global estimates of road accident costs to international GDP, this figure could well be in excess of QR10 billion annually.
Roadworks in progress
As mentioned, the government is ostensibly working hard to overcome traffic problems in Qatar. State officials are issuing laws, setting strategies and masterplans, hosting conferences, and launching awareness programmes. For instance, Qatar's Traffic Department sponsored a conference on road safety in 2012 with the motto of 'Driving towards a safer future', published a traffic magazine, launched awareness offices, and inaugurated traffic investigation sections in various places in the country. 
But this of course does not simply apply to creating laws, policing them and punishing offenders, as the road system itself is undoubtedly a contributing factor. 
Commenting on road design and its role in averting accidents, Rupert Booth, associate director at Atkins, a leading global engineering and project management consultancy involved in road construction in Qatar, told The Edge. "An effective, well-designed and efficiently managed road network is a key part of a nation's multi-modal transport mix, and this has been recognised here in Qatar. The continual development of the road network over the next decade is an essential component not only for delivering a successful FIFA 2022 event but also for the quality of life in Qatar for generations to come."
Qatar has also set a national traffic strategy and a transport masterplan in addition to hosting an Intelligent Transport Systems (ITS) and Road Safety Forum. Currently, these are serving as roadmaps for traffic management in Qatar.  At the third annual road planning, design and construction Middle East forum held in Doha in February 2013, Engineer Mohammed Serroukh, director general of ITS Arab told The Edge that within the region ITS, which he encourages states to invest in, is now widely recognised and is included in most transport studies and masterplans. 
Two advantages that Serroukh highlights are the real-time traffic monitoring system, which allows the responsible road authorities to accurately identify and measure traffic flows and congested bottlenecks; and the adaptive traffic control which allows all the networked signalised junctions to automatically respond to the traffic flows. This is generally underestimated, he said, adding, "It is a proven technology that is about 30 years old that has been demonstrated to provide from 15 percent to 30 percent road network efficiency."
A National Traffic Strategy
Building on Qatar's National Vision 2030 and the National Development Strategy 2011-2016, a National Traffic Strategy 2013-2022 was launched in early 2013. Aiming at reducing the number of traffic victims, enhancing traffic management, and enforcing safety measures, this strategy focuses on five dimensions: road safety, vehicle safety, pedestrians' facilities, awareness building, in addition to refining license and legislation issues. 
Commenting to The Edge on the launch of the National Traffic Safety Strategy, road safety consultant John Kipling, currently transport and fleet management specialist, RasGas, says, "It is clear the government is well aware of all the problems, and is adopting a systematic approach to encompass all aspects of road safety, whether in road design, education, technology, research, enforcement and medical treatment, treating each problem not individually, but as a 'whole', examining the impact of one against the other." 
However Kipling, formerly a traffic officer and accident investigator in the United Kingdom, warns against creating large initiatives that might not solve the root causes of the problems, as cars, after all, are driven by people and it is their behaviour that ultimately results in collisions. "Throwing money at a problem is not the answer," says Kipling, "and Qatar appears to spend wisely, consulting world leaders in road safety, yet adopting 'best practice' to suit the needs of the people of Qatar, rather than buy in a one size fits all model."
It is also important, adds Kipling, for both companies and the people to contribute to the solution and not just rely on the state, forwarding some examples. "Whilst companies like RasGas, Qatargas, Shell and Exxon Mobile, provide luxury 'mass transport', driven by professional drivers, showcasing an efficient method of safe transport, at the same time reducing individual journeys, there is an argument for government intervention in further promoting the business example and perhaps expand public transport competition, to provide a better public service.
"The public at large also has a huge responsibility to keep the roads safe," he adds, "and as long as we see unrestrained children leaping around in the backseats of vehicles, young, testosterone fuelled boy racers acting with impunity, and some police officers failing to enforce the law defeats the object of the exercise. A problem money can't fix." 
Qatar's National Traffic Strategy will be implemented through 200 action plans during the next five years, with the involvement of 13 different agencies. President of Ashghal, Engineer Nasser Ali Al Mawlawi, translated the aim of the strategy into numbers saying, "By implementing this National Strategy for Traffic Safety, our aim is to reduce the death rate due to traffic accidents to 130 from the present number of 220 and cases of serious injuries to the rate of 300 compared to the present rate of 550 injuries per year." The government of Qatar is providing all the necessary means to address traffic problems. Not only this, efforts have gone beyond the decision to host the 2022 World Cup; a complete ITS will be in place before the FIFA begins. It will provide accurate and user-friendly information about the traffic flow in all roads and highways across the country. Football fans attending the FIFA games will be able to access real-time information on a traffic situation by browsing an interactive map on the organising committee's website.
For all individuals, business owners and the state itself, it is of course hoped that the strategy is successful and the final outcome of Smeed's decades-old law will be eventually become a reality in Qatar in the near future.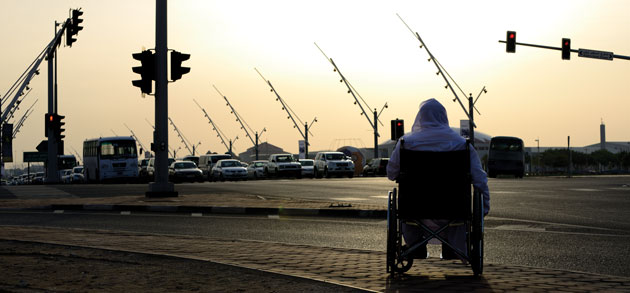 Like this story? Share it.