The battle to dominate Middle East aviation
The Middle East aviation sector is one of the fastest growing in the world. But how secure is the regional hegemony and dominance of the Gulf's 'big three' carriers, Qatar Airways, Etihad and Emirates? Is there room for Turkish Airlines as a fourth large regional player, and what of the growing 'low-cost' market – and the increasing challenge more and more aeroplanes in the sky presents to airline safety in the skies above Qatar? The Edge investigates.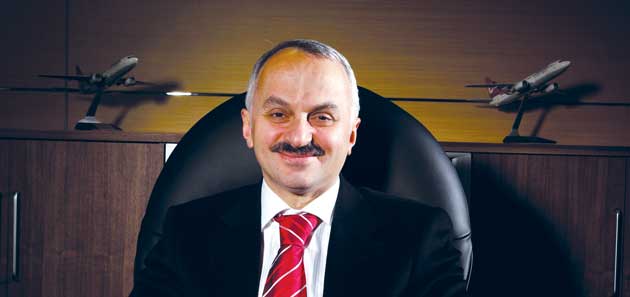 Turkish Airlines CEO Temel Kotil has pursued aggressive expansion for his company, one that emulates the business model of Middle Eastern airlines such as Etihad, Emirates and Qatar Airways, and which is ironically proving an increasing threat by his airline to their regional hegemony. (Image Courtesy Turkish Airlines)
Few dispute that Qatar Airways' expansion rate since launching in 1994 has been anything other than exceptional. The award-winning Doha-based airline's 125-aircraft fleet now serves 130 destinations across the globe, with an average of one new route being launched every month. And recent orders for another USD50 billion (QAR182 billion) worth of aircraft will ensure growth for years to come.
Together with Dubai's Emirates and Abu Dhabi's Etihad, Doha's flag carrier has helped to bring the Middle East to the forefront of global aviation. But the local hegemony of the 'big three' Gulf airlines and airports is also being threatened, as they are not the only players seeking to realign traffic away from legacy hubs in western Europe. Indeed, the region's wealth and population growth have made it an attractive potential market for competitors both internationally on a grand scale and locally on the low-cost end of the aviation sector.
Of the former, on a grand scale, Turkish Airlines (THY) is fast becoming the most likely contender – and in doing so it is echoing many of the strategies so successfully deployed in Qatar and the United Arab Emirates.
"Our main strategy is to use the sixth-freedom hub model. As we are sitting at the heart of Eurasia, we can combine both short- and long-haul."- Turkish Airlines CEO Temel Kotil.
Over the past two decades, the Gulf states transformed themselves into a key bridging point between east and west through a combination of strong government support, natural geographical advantage, and favourable economic conditions. While Europe's legacy airlines were saddled by high cost structures and dated infrastructure from the glory days of air travel, Qatar and the UAE had a clean slate on which to craft efficient business models.
It is ironic, then, that THY, one of the oldest airlines in Europe, has emerged as perhaps their strongest competitor. Chief executive officer (CEO) Temel Kotil has held the top job at the flag carrier for eight years, and his vision of turning Istanbul into the default stopover for intercontinental flights bears all the hallmarks of the Gulf carriers' flight-path.
"Our main strategy is to use the sixth-freedom hub model," he tells The Edge, referring to the aviation term for using a domestic hub to connect flights between two foreign destinations. "As we are sitting at the heart of Eurasia, we can combine both short- and long-haul, and we can proudly say that we are doing our
job excellently."
Similarities and differences
When examined more closely, the similarities between THY's expansion plan and that of the Gulf carriers are even more striking. Between 2002 and 2012, Turkey's flag carrier expanded its international network from 77 to 182 destinations, spreading its reach liberally across Europe, Asia, Africa and the Americas. Its double-digit annual growth figures – passenger traffic grew by 26.3 percent last year – had previously been considered the exclusive preserve of Middle Eastern success stories.
Like the Gulf carriers, there is a clear focus on tapping the potential of emerging economies in Africa. Qatar's interest in the region was reinforced with the launch of Addis Ababa, Ethiopia flights in September, bringing its number of African routes to 20. Emirates recently restored flights to Tripoli, Libya, while Etihad has extended its reach on the continent through partnerships with South African Airways, Kenya Airways and Air Seychelles.
QAR182 billion - The total current future aircraft order book of Qatar Airways.
"The future of Africa is very bright," Kotil says, noting that THY's traffic to the continent has tripled in four years. "Currently, we are operating flights to 34 destinations on the continent. In 2012, we added 15 new points in Africa to our network, and we are planning to add another 10 additional points."
Even the lexicon that THY uses to describe its target markets is reminiscent of the Middle East aviation model. Management at Etihad and Emirates frequently point out to journalists that one-third of the world's population lives within four hour's flying time of the Gulf, and two-thirds within eight hours. However, Kotil opts to frame his approach by using slightly different geographical marketing language, speaking about Istanbul having a catchment area of 55 countries within 3.5 hour's flying time.
Nevertheless, despite the similarities there are several aspects of Kotil's business model that differ markedly from the Gulf region. Turkey's population of 74 million and its larger land mass affords THY the kind of domestic market that Gulf operators can only dream of, for example.
"Having a large domestic market is a major advantage," Kotil insists. "In addition to the Istanbul hub [Atatürk Airport], THY has two more hubs at Sabiha Gökçen Airport – the secondary airport in Istanbul – and Ankara [Esenboğa Airport]. Sabiha Gökçen serves domestic, European and Middle Eastern markets, and Ankara only serves domestic markets."
Fleeting comparisons
At first glance, THY's fleet seems comparable in scale to Emirates. The Turkish airline operates 192 aircraft and has orders for 208 more, while Dubai's flag carrier deploys 202 aircraft with another 192 in its order book. Qatar Airways appears to trail behind with 125 existing units, plus 171 future commitments.
But the vast majority of THY's fleet is made up of narrow body (single aisle) aircraft, reflecting its strategic focus on high-frequency, mid-haul routes. By contrast, Emirates operates an all-wide body (twin aisle) fleet better suited to intercontinental trunk routes. Qatar opts for the middle ground, combining larger aircraft such as its upcoming Airbus A380s with relatively small A319s. Measured by Revenue Passenger Kilometres – the industry standard for traffic – Qatar is 10 percent larger than THY.
Perhaps the most significant difference between THY and its Gulf counterparts, however, is its ownership structure. Turkey's government has been a minority shareholder in the airline since May 2006, limiting its options for providing direct financial support.
By contrast, the governments of Dubai and Abu Dhabi wholly own Emirates and Etihad respectively. Qatar Airways is 50 percent owned by the Qatari government and 50 percent by private shareholders, though its precise structure is not disclosed. Though allegations of state support for the Gulf carriers are often exaggerated, the fact remains that Istanbul Stock Exchange-listed THY is exposed to deeper financial scrutiny than its Gulf counterparts.
Nonetheless, Kotil insists the flag carrier and the government work together with "great harmony" in pursuit of the country's aviation aspirations. Projects such as the upcoming Istanbul New Airport lend credence to this view. "The Turkish government has a clear vision concerning civil aviation, and thanks to its political support and motivation, major investments have been made," he says.
Low cost challengers
While the growing competitive threat from Turkey will not force a strategic rethink in the Gulf countries, where traffic growth consistently outpaces hikes in capacity, and it would take a significant macroeconomic shock to thwart Qatar Airways' expansion plans. However, the Doha-based carrier must remain nimble, with new threats also potentially emerging from a new breed of low-cost operators in the region and in fact on its very doorstep.
Today, Qatar's tiny low-cost sector is comprised of a handful of flights operated by FlyDubai, Air Arabia and Air India Express. It is generally accepted that the European-style no-frills business models are ill-suited to the Gulf, mainly due to bilateral restrictions and visa requirements.
But FlyDubai – which will be one of ten launch carriers at Doha's Hamad International Airport next year – is adapting the European model to suit the region. The sister carrier of Emirates took delivery of its first aircraft configured with Business Class seats in August, enabling it to attract higher-yielding passengers who can in effect subsidise lower fares in Economy. If successful, its strategy could ultimately force Qatar Airways to cut fares on regional routes. Speaking to The Edge, FlyDubai CEO Ghaith Al Ghaith concedes that his budget airline now "goes beyond what you would expect from a low-cost carrier". As well as offering Business Class, the airline gives free baggage allowances on certain routes.
It also utilises jet bridges at its Dubai hub – a perk that most of Europe's low-cost carriers have deemed too expensive.
Nonetheless, Al Ghaith insists that FlyDubai is standing by its "low-cost principles" in every other regard. The airline's young fleet age, fast turnaround times and favourable labour contracts echo the underlying principles that allowed operators such as Ryanair and easyJet to revolutionise air travel in Europe. In Europe, the more mature no-frills sector has grown to 34 percent of traffic, while the Gulf's regulatory landscape continues to favour incumbent full-service airlines such as Qatar Airways. Nonetheless FlyDubai is slowly but surely lifting the region's 10 percent low-cost carrier penetration rate.
"There are a lot of complexities facing the whole of the aviation industry," Al Ghaith replies when asked about the challenges. He notes that high oil prices affect airlines operating from every region in the world, adding: "We are, however, fortunate to be based in a globally recognised centre for trade, tourism, logistics and transportation."
FlyDubai CEO Ghaith Al Ghaith concedes his budget airline "goes beyond what you would expect from a low-cost carrier". 
For now, FlyDubai's presence in Doha is limited to one spoke feeding traffic back to its UAE hub. Qatar Airways has no plans for a low-cost subsidiary, and foreign ownership restrictions make it unlikely that the flag carrier will be usurped at home.
However, from further afield the pressure is mounting for Qatar Airways to continue out-performing its competition in product quality, while also keeping fares as low as possible, as it is clear that a growing spectrum of airlines is noticing the Middle East region's rapidly growing market potential in the global aviation sector.
Like this story? Share it.