Qatar's attorney general addresses the Qatar Law Forum in London
The attorney general of Qatar, His Excellency Dr. Ali bin Fetais Al Marri recently spoke at the Qatar Law Forum (QLF) symposium, held in London, United Kingdom (UK) on the Rule of Law and anti-corruption.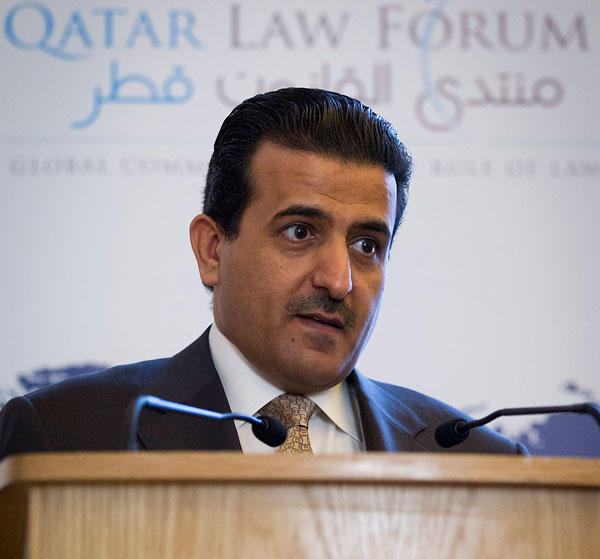 HE Dr. Ali bin Fetais Al Marri, attorney general of Qatar, speaking at the recent QLF symposium held in London.
The QLF brought together leaders in law from around the world to discuss challenges in enforcing the Rule of Law and other legal and economic-related issues. Other speakers at the event included current attorney general for England and Wales, Dominic Grieve, and the former attorney general Baroness Scotland. The QLF, which is organised by the Qatar International Court and Dispute Resolution Centre (QICDRC), was held for the first time outside Qatar. QICDRC president, Lord Phillips noted, "The nature of the special relationship between Qatar and UK, and the recognition that much of the world's expertise in Rule of Law development and anti-corruption is to be found within the City of London." 
In recognition of the need to move beyond dialogue and instigate change on the ground, the QLF is involved in the coordination of, and assistance in a number of Rule of Law projects, and the recent symposium was, the first in a series of events. According to the Illicit Financial Flows from Developing Countries: 2001 – 2010 report, Qatar ranks 15th with US$5.6 billion (QR20.4 billion) of average annual illicit financial flow. 
Roger Gifford, lord mayor of London, also in attendance, added, "The UK is recognised globally as a world leader when it comes to the Rule of Law. This event showcases our commitment to enhancing the mutually beneficial partnership between our two countries."
Like this story? Share it.