Qatar Exchange and Al Rayan to launch Islamic index
Qatar Exchange (QE) and Al Rayan Investment recently announced the launch of the QE Al Rayan Islamic index. Set to debut on January 7, 2013 the index is based on QE listed stocks that are shari'ah compliant and of the minimum free float size and liquidity according to Al Rayan's shari'ah supervisory board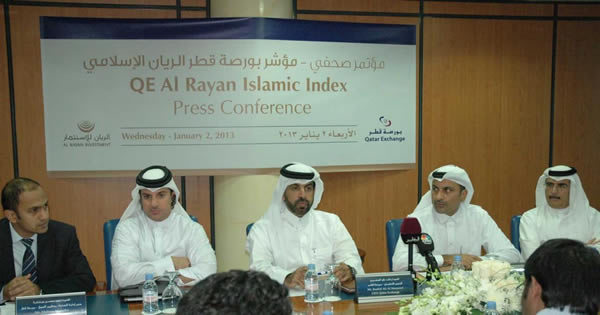 The index is intended to support the creation of shari'ah-compliant exchange traded fund by Al Rayan Investment and has been issued with a fatwa by its shari'ah board.
A weighting scheme for the index has been customised to ensure both tradability and diversification across individual stocks and sectors.  Qualifying stocks are ranked according to liquidity adjusted free float market capitalisation and then a tiered-weighting methodology is applied where fixed allocations are assigned to individual sub-segments of the basket.
QE's independent Index Committee governs the index's weighting methodology and adherence to index rules.  The index is total return based, reflecting dividend reinvestment and has been calculated back to January 2007. Since inception, the index has provided over 148 percent return and has returned over 14 percent in 2012.
"We are delighted to extend our index development capabilities to esteemed asset managers like Al Rayan Investment. The newly launched index meets the demands of the [exchange traded fund] ETF envisaged by Al Rayan Investment for listing at QE. In practical terms, the shari'ah screening produces a subset of financially healthy companies with strong fundamentals. We've also adopted an alternative weighting scheme for the index whereby large caps retain the edge in terms of weight, but small and midcap stocks belonging to some of the best performing sectors are still well represented. We believe investors will be very interested in the returns the index has achieved historically," said Rashid Al Mansoori, CEO of Qatar Exchange.
Adel Mustafawi, board member and executive director of Al Rayan Investment commented, "We are pleased to have jointly developed this index with QE. As the first exchange-sponsored shari'ah-compliant index in the region, this will accelerate the development of the Islamic asset management industry in Qatar. Considerable emphasis has gone in to making the QE Al Rayan Islamic index an attractive vehicle to access the Qatar growth story. Al Rayan Investment has consistently delivered superior investment performance for its clients. Al Rayan Investment's focus on innovation continues as we hope the regulatory environment will allow us to launch a related ETF later this year."
Like this story? Share it.