Is mediation a viable alternative to litigation in Qatar?
Legal experts in Qatar are unanimous that the number of business-related cases coming before Qatar's courts is only going to increase if concerned parties do not ensure they are entering into clear and binding contracts. However, they also feel that businesses should adopt mediation to settle disputes, rather than arbitration or litigation.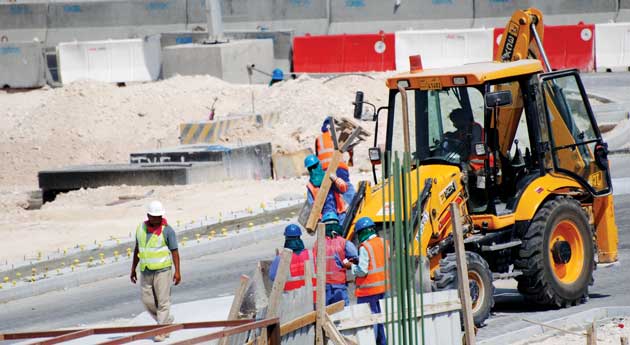 One way to avoid construction cases is to ensure that contracts have been properly written and that a proper clause is built in to address the eventuality of dispute. In addition is a proper escalation procedure which could be through experts talking to disputing parties. (Image Corbis)
One indicator of the efficiency of a country's legal system is the number of cases pending before its courts and what proportion of cases are delayed. Statistics reported in The Peninsula in September 2012 revealed that 20 percent of the 86,980 cases filed in Qatar's courts in 2011 (an increase of 5.4 percent from 2010), were not resolved. The backlog was partly due to a legal system that has not been updated since 1990, during which time the population has quadrupled and the country's development agenda has changed, and with it the volume of cases. 
The newspaper report also claimed a serious and well-known issue in Qatar is that many lawyers and accused rely on tactics to stall cases to draw them out in court for years. 
A measure of the time, cost and procedural complexity of resolving a commercial lawsuit between two domestic businesses in 189 countries is offered in Doing Business (a World Bank initiative relating to business regulations). The report ranks Qatar at 93rd, and puts the number of days taken for dispute resolution at 570, citing 43 processes which disputing parties need to deal with. Contrast that against Norway's rank at fourth, with 280 days taken for resolution of disputes, and parties having to deal with 34 processes. 
Global comparisons can serve as measurables for Qatar. Robert Musgrove, CEO of Qatar International Court and Dispute Resolution Centre (QICDRC), commenting on the gap between Norway and Qatar in dispute resolution, says that Doing Business provides a blunt, but nonetheless key indicator on how good law supports good business. "The equation is a simple one," says Musgrove, "the stronger the rule of law, the better the opportunities for economic growth. Both domestic and international businesses require the confidence that their economic investments are protected and promoted. This in turn reduces risk and cost."
"If you have a world-class court, arbitration centred resolution centre, it provides the confidence for international investment." – Robert Musgrove, CEO of Qatar International Court and Dispute Resolution Centre (QICDRC).
Musgrove continues that one main reason behind setting up the QICDRC was to instill confidence in the minds of international corporate firms to invest in Qatar. "If you have a world-class court [and] arbitration centred resolution centre, it provides the confidence for international investment," he explains.
Mel J. Sims, country managing partner, DLA Piper for Qatar, agrees that international best practices create a streamlined approach to legal processes, which he feels is "necessary to ensure Qatar is not held back and its development continues at pace." The biggest challenge, Sims adds, is creating trust in the legal processes by encouraging transparency and accessibility and crucially demonstrating a robust and straightforward approach to enforcement of alternative methods of dispute resolution. "In the meantime, uncertainty and unfamiliarity with dispute resolution in Qatar will feature as a key risk for international companies seeking to do business in Qatar," he says.
Dr. Minas Khatchadourian, deputy secretary general of the Qatar International Center of Conciliation and Arbitration, (under Qatar Chamber of Commerce and Industry) says that international best practices are developed usually in the Western countries, where the legal system is more developed. "International best practices," he says, "can set a standard from which we can develop the regional best practices that could suit this country."
Challenges and issues
Cases that get referred to Qatar's courts span sectors such as banking and finance, corporate and commercial law, employment and labour, energy, free zones, intellectual property, sports, events, and telecommunications.   
The QICDRC, says Musgrove, has been operating since 2010 and has both had cases in the court and dealt with some others through arbitration and mediation. Mostly related to financial services, the QICDRC, says Musgrove, has dealt with disputes related to insolvency, bank closure and employment. 
One issue, agree Doha-based legal professionals, that arises regularly, occurs when advising on disputes related to record keeping, and the documentary evidence provided to support the claims being made. 
Danny Rifaat, partner, Al Misnad & Rifaat says, "We have come to learn that a key element for a successful outcome is to possess reliable documentary records for supporting the party's claim or defence.  Courts and tribunals require that any action, whether to prove liability or the sums owed, need to be supported by documentation, otherwise it is very likely that ones claim or relief sought be dismissed." 
Moreover, as the official language of Qatar, Arabic is the mode of communication in courts, though translators are provided for non-speaking litigants, The Edge asked the local law firms if this is a hindrance to those who do not speak the language. For firms such as Eversheds, having bilingual lawyers solves the issue. 
However, for the head of chambers of McNair, Qatar, Khawar Qureshi, the impact of the use of Arabic is significant as words can often have different meanings depending on their context, which is one area of concern for Rifaat too. "Translation of any legal text," says Rifaat, "is a complex process as it must take into consideration the complexity and shades of meaning of each system and the unique character of each language. It is not uncommon that a translated text does not accurately reflect the original text, which would then disturb the equilibrium of the interest of the parties. It would therefore be advisable that the agreements be drawn up in more than one language (bilingual or if needed trilingual) to facilitate smoother legal proceedings."
"This issue typically only affects proceedings in the local courts," furthers Chris Campbell, associate, Clyde & Co, "In our experience, cases resolved through arbitration, either locally or internationally, are not conducted in Arabic. One issue to bear in mind is the cost of having documents translated into or from Arabic.  There may be instances where having documents translated from Arabic could work to a party's advantage as a result of the nuances of the language." 
A significant proportion of legal cases in Qatar pertain to the construction sector. Explaining the volume of cases in the sector, Olivier Sulik, senior legal counsel, QDVC provides some advice for those entering into contracts in this environment. "At first, a fair balance of risks between the parties must be reflected in the contract.  Where a contract is one-sided, it is usually an open road for future disputes, which would impact the life of the Project, as well as the stakeholders. I would advise to have regular contract meeting minuted through a contract review board, made up of equal members, which could internally set up ad-hoc committee(s) to develop plan of actions with deadline to solve the dispute. Should the dispute not be solved by the contract review board, then it must be envisaged to refer it to the senior management of each party for a prompt settlement.
However, amicable settlement is not always possible. Then, the parties may decide to use Alternative Dispute Resolution (ADR) mechanism such as the appointment of an Independent Expert, a Dispute Resolution Board (DAB). In all aspects, apart from the litigation proceedings, I would advise to negotiate clauses which set a clear timeframe to solve the dispute, as early as possible from its occurrence. Finally, the parties may envisage to invest in a permanent panel of experts (dispute review board) appointed and paid equally by the employer and the contractor which would follow up the project and advise the parties." 
The myriad of nationalities and backgrounds on Qatar's court benches, Sulik continues, is another factor influencing the smooth processing of court cases. "Today, the judges in Qatar are from different countries, with their own legal background and experience.  That situation is far from being perfect as there is a lack of coherence in the jurisprudence and thus a lack of visibility for the contractors. The permanent training of the judges is one of the key solutions and some countries like France have developed some expertise and collaborative approach in that field."
QAR910 million - The value of the German-Emirati joint venture Lindner Depa's arbitration claim against Qatar for the delay in the New Doha International Airport.
Historically, part of the challenges in litigation in Qatar, says Robert Musgrove also lies in the cultural ethos of the region where not much has been written down and there have not been sophisticated contracts. "The first and most important point is getting the contract right. Ensuring that contracts have been properly written and that a proper clause is built in to address the eventuality of dispute," adding that if there is a problem with the contract, disputing parties should be able to arrive at a proper escalation procedure, which could be through experts talking to them, which, in juridical parlance, is called mediation. 
Mediation first
Dr. Khatchadourian says that mediation, as a dispute resolution mechanism, is more prevalent in the West and its strength, according to him, lies in the fact that mediators convince disputing parties without imposing a specific court ruling. He adds, "The mediator is usually an elderly person who is respected for his wisdom and the disputing parties come to a kind of compromise with the feeling of a win-win situation, which helps them adopt the solution voluntarily, even though it is a compromise. It is this that helps preserve the commercial ties between the parties, which is not the case [with] litigation."
 It is with the aim of ensuring that construction projects adhere to timely delivery that the QICDRC has developed Q-Construct. The role of Q-Construct, says Musgrove, is to resolve construction disputes as they arise, avoiding usually lengthy and expensive litigation or arbitration claims. 
While all legal experts believe sound contracts can go a long way in preventing legal disputes, Rifaat of Al Misnad & Rifaat is more specific when he says, "All the agreed-upon terms, particularly those related to the prices of material and equipment, payment terms and milestones, should be clearly reproduced and drafted in the agreement in order to avoid frequent claims in contracting agreements which centre around either price or delays in completion of works." 
Rifaat also feels that the allocation of responsibilities between the contractor and the contracting state should be made in a fair and acceptable manner. Many times, he says, the state attributes a larger share of responsibilities to the contractor, which may hinder progress of a project and trigger a larger possibility of claims that can be made by the state.
If contracts are weak, often avoidance of litigation is impossible, says Mohammed Raiz, Sultan Al–Abdullah & Partners adding, "We feel there are some examples of self-drafted or off-the-shelf agreements which are not tailored to specific needs of the parties and the region, thereby causing confusion and leading to disputes."
The lessons learnt
Qatar has and is seeing high-profile cases in the recent past, notable among them being the German-Emirati joint venture Lindner Depa which has filed an arbitration claim against Qatar for USD250 million (QAR910 million) over a disputed contract at the long-delayed new airport in Doha to be redressed at the International Court of Arbitration in Paris.
"The equation is a simple one – the stronger the rule of law, the better the opportunities for economic growth." – Robert Musgrove, CEO, QICDRC. 
Musgrove adds that it is one clear case for using international expertise for dispute resolution, given that Qatar is a country that is fast evolving. "Qatar is using," he says, "its huge wealth to move its society and economic interests at a phenomenal speed and inevitably some elements of development go faster than others. I personally would like to see that these are the type of disputes that…were appropriate for the QICDRC's jurisdiction, providing as it does genuine skills, knowledge and expertise in specialist fields." 
Both Musgrove and Dr. Khatchadourian agree that with passing time, commercial disputes will become more complex, with Dr. Khatchadourian adding that he increasingly witnesses disputes with multiple parties on each side, where sometimes even the stakeholders, such as insurance companies, bankers or financial institutions get involved. "Resolution of such disputes," says Musgrove, "requires a high degree of legal expertise that the international experts can bring in." 
Dr. Khatchadourian cites the case of construction contracts which are drawn up on the standards set up by the International Federation of Consulting Engineers (FIDIC), and have built-in dispute resolution boards that are charged with following the development of a project to avert disputes, recommending the use of such boards across the industries.
"The dispute resolution board comes and sits with both parties, trying to solve issues before things are…complicated and before a dispute reaches the deadlock stage," a sentiment shared by Riaz of Sultan Al-Abdullah & Partners. 
Sims of DLA Piper is also of the opinion that early action can avoid lengthy disputes, "Drastic action such as termination of contracts and calls on performance bonds leave parties with no option but to go through arbitration or litigation." He adds that early action requires all parties to take responsibility for their part in the situation, and not resort to blaming one another. 
Musgrove thinks that as Qatar's development progresses, this will by necessity involve more investment from international markets and law students who are now acquiring legal degrees abroad will have to focus more on the growing economy's needs and on realities in Qatar, something that a mere law degree may not equip them with. "Law graduates need lawyering skills to be prepared enough to practise in the courts," continues Musgrove.
Dr. Khatchadourian continues that the country will do well to develop more specialised codes, codes which can deal with economic disputes, intellectual or corporate disputes, labour disputes, mergers and acquisitions, "because Qatari judges need more exposure and experience in dealing with complicated complex multi-party disputes. The legal system also needs some new laws and we hear about a new company's law or an arbitration law that is going to be released shortly." 
"The mediator is an elderly person, respected for his wisdom.Disputing parties come to a compromise with the feeling of a win-win situation." – Dr. Minas Khatchadourian, QCCI.
Jonathan Collier and Paul Prescott, senior associates with Pinsent Masons, say that it would be important to see specialist courts to deal with disputes in specialist sectors. For example, in the United Kingdom, there is the Technology and Construction Court, which deals with high-value complex construction and IT disputes. 
Having specialist judges experienced in dealing with these types of disputes means the parties have confidence in the courts to deal with these types of disputes, and the parties know they will be dealt with expeditiously and in a cost-effective way, they say. 
According to Collier and Paul Prescott, the legal framework – the Civil and Commercial Procedure Law - Law No. 13 of 1990 that underpins the court process, needs a major overhaul to update it in order to allow cases to be dealt with in a cost-effective way and for it to be brought up to the same standards enjoyed in other jurisdictions, especially if Qatar wants to continue to attract major international investment. 
Like this story? Share it.