Liquefied natural gas to power Qatar's LNG carriers
Three Qatar state-owned companies have unveiled plans to convert an ocean-going gas tanker to run on liquefied natural gas (LNG) as an alternative to heavy fuel oil, it emerged in January.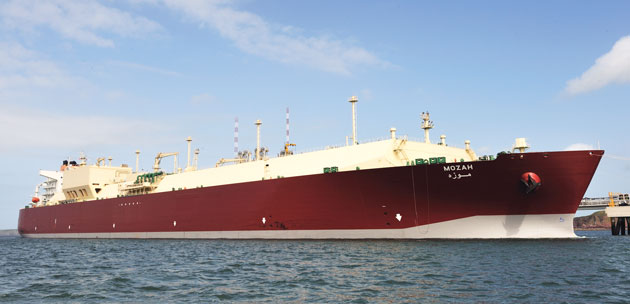 A Q-Max vessel such as this, pictured, will be converted to run on LNG in the near future, reducing emissions and costs for Qatar.
The plan, involving natural gas producers Qatargas and RasGas and spearheaded by Qatar shipping company Nakilat, would see the world's first low-speed marine diesel engine converted to use LNG – a considerably cleaner fuel that would cut the ship's exhaust emissions.  The work will be carried out at Nakilat-Keppel Offshore & Marine's Erhama Bin Jaber Al Jalahma Shipyard in the port of Ras Laffan, Qatar. The main engines of a Q-Max vessel will be modified to burn the cleaner fuel, meeting "current known and future stated global emissions regulations," according to a Nakilat statement.
German headquartered company MAN Diesel and Turbo has been contracted by the three Qatar firms to carry out the conversion. Although work is in its early stages, the companies have a "high confidence level" with regards to the safety and reliability of the propulsion system.
Should the project prove successful, the benefits for Qatar would lie not just in the marginal reduction of its own carbon emissions, but in the potential for the technology to be exported to other nations, thereby creating domestic economic gains, and international environmental benefits. In addition, a new demand stream for LNG, which is Qatar's primary export resource, would be created.
The cost of heavy fuel oil is closely related to crude oil prices, which have been gradually rising for a number of years. Therefore, the move could also cut the costs of Qatar's largest export industry, and provide flexibility of fuel supply to react to market changes and reduced bunkering activities which, in turn, will offer operations and marine risk reduction.
International shipping is already known as the world's most efficient means of mass-transit, but with growth in the industry set to continue at speed – particularly within the energy sector – global efforts have increasingly begun to focus on cutting the sector's harmful carbon emissions, which according to the International Maritime Organisation account for around three percent of the planet's man-made total.
Like this story? Share it.