Is Hamad International Airport ready for passenger flights?
As the Hamad International Airport (HIA) starts its cargo operations with one of the largest cargo terminals worldwide, is it ready to go fully operational in 2014?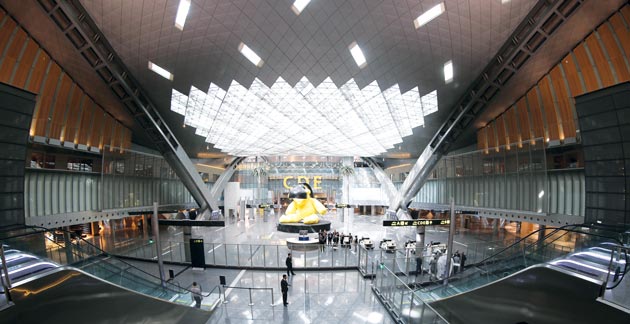 A general view shows the interior of the Hamad International Airport in Doha, slated to start passenger flights in January. (Image Reuters/Arabian Eye)
Doha's new airport began its cargo operations from December 1, receiving its first cargo shipment from Europe to Doha for Qatar Petroleum. The new airport "has the capacity to move 5,700 shipments simultaneously and to handle 1.4 million tonnes of cargo per annum by 2015, representing a 75 percent increase from the current airport," Qatar Airways offered in a press statement.
HIA was first intended to have a soft launch with the operations of 10 airlines in April 2013, later delayed.  While the airport stated its intended date of full operations somewhere in the fourth quarter of 2013, Transport Minister, HE Jassim Seif Ahmed Al Sulaiti in November announced the passenger flights start sometime in January 2014, according to Hukoomi's media reports.
With large infrastructure projects in progress, such as HIA, there is always an element of 'dark risk', Anthony Hopkins, director of Institute for Infrastructure Studies in Qatar told The Edge, further defining the industry term as "the potentiality for unanticipated events of significance to emerge at critical moments to cause significant problems." Berlin Brandenburg Airport, he cited, as an extreme example of such uncertainties.
"One month, before opening the Berlin Brandenburg Airport, contained 30 months of dark risk." – Anthony Hopkins.
That airport was scheduled to open in June 2012, but in May 2012, major problems emerged that prevented the airport operating. "As investigations progressed, more problems were uncovered and now the airport will not be opened until sometime in 2014. So one month, before opening the project, contained 30 months of 'dark risk'," he explained.  
Similarly, other infrastructure projects are also vulnerable to such risks, which are not confined to a type or region. Such difficulties, Hopkins said, are a common feature of large complex projects regardless of the region.
Eventually, these risks can be offset by latest technologies. However, to realise its dream of hosting 2022 World Cup and adhere to its National Vision 2030, Qatar cannot afford excessive delays. "Qatar, and the GCC region in general, intends to commission so many [projects] in a short period of time that waiting for management techniques to catch up is not an option," said Hopkins.
Meeting the promise made in November to start cargo operations in December, it seems likely that HIA will soon commence passenger flights, thereby overcoming its dark risks, that kept it from the planned opening in April 2013.
Like this story? Share it.