Government to monitor Qatar's real estate sector dealings
With real estate experts foreseeing a rise in property prices and eventually rents in Qatar, can a regulatory body protect tenants and buyers from rental inflation?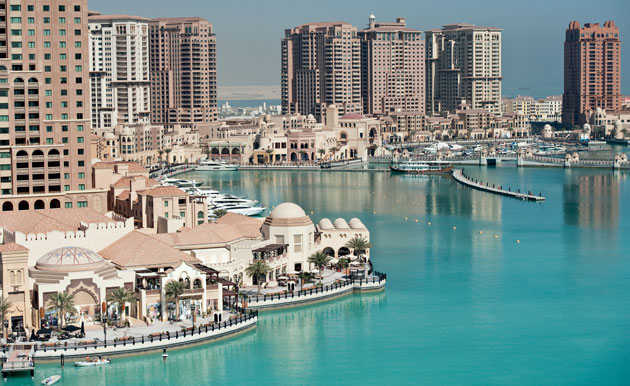 Pictured here is a view of The Pearl-Qatar, featuring Qatar's high-end residential units on rent and for sale. One of the key responsibilities of Qatar's regulatory body would be monitoring real estate dealings such as rent contracts.
Following Qatar's rental inflation in 2008, the country introduced a two-year cap of 10 percent for all residential properties the same year. Since the law's expiry in February 2010, landlords have been free to escalate rates. With increasing influx of expatriates, the rising demand for accommodation has further exacerbated the situation for tenants and buyers. According to Zawya report Construction Boom Puts Qatar in Spotlight, the country's population is expected to reach around 2.8 million in the next six years. 
Commenting on the trend, Monsi Rabah, country manager of PropertyFinder.com for its Qatar operations, said, "Over the last few years, there is a demand for new residential properties due to the continuous increase of population. With the new Doha International Airport due to open in second quarter, new residential properties will need to be built around that area."
Mark Proudley, head of research and evaluation at DTZ, also foresees residential rents going up. "DTZ anticipates high potential for rental growth over the next two years for residential stock targeting middle- to upper-income expatriates," he said. It is against this backdrop that a dedicated authority to regulate Qatar's real estate sector in being established, reported Arabic daily Al Sharq.
"The focus of a proposed real estate regulatory body should be to establish international standards and regulations to help stabilise market conditions." – Monsi Rabah, PropertyFinder.com
Speaking with The Edge, Susan B. Bastress, managing partner of a US lawfirm Patton Boggs LLP, highlighted the importance of a regulatory body when she said, "Consumer protection measures which are customary in the real estate industry, such as licensing of real estate brokers and adopting rent controls to preserve affordable housing stock, could serve to protect buyers and tenants from unscrupulous actions in the industry."
"The focus of a proposed real estate regulatory body should be to establish international standards and regulations to help stabilise market conditions and bring confidence to investors, tenants, landlords, developers and real estate agents by creating and implementing systems and controls that would place everyone on an even playing field," said Rabah.
However, in carrying out these tasks, Bastress warns that the regulator should aim at striking a balance that stimulates further growth. "These measures must be carefully designed and implemented to avoid imposing burdens, including increased costs, on owners and developers that make new projects unprofitable. An overregulated market will only serve to slow down future investment and growth," she said.
While the country is equipped with control bodies in various sectors, what measures can be taken to ensure efficacy of the upcoming regulator? Rabah has some suggestions. "The senior management of such a government agency should try and focus on insuring that a robust and effective system is introduced so that there is transparency in the market, which would give comfort to existing and potential investors in this fast-growing and evolving market," she said.
While monitoring real estate dealings effectively will benefit the sector at large, Bastress suggests some other measures that can further ameliorate the industry, "Other measures might include land use planning measures, such as zoning, to encourage appropriate and needed growth in designated areas.  New development which addresses future demand, based on properly conducted feasibility studies, will also prevent an oversupply of some types of real estate development which fail to achieve sustainable occupancy levels."
These measures may or may not fall under the scope of the said regulator. However, about planning stage of future developments, Bastress said these objectives can only be achieved if  "Qatar's private sector, including developers, investors, financiers, and other real estate professionals, would lend their invaluable insights and experience to ensure that any new regulations would be closely aligned to provide both needed protections and incentives for new growth in Qatar's real estate market."
Like this story? Share it.