Doha: Destination of choice for the international MICE market
The Edge's managing editor Miles Masterson discusses the future of Qatar's mega events industry with Josoor Institute's speaker Phil Clements, principal consultant for International Development at Leeds Beckett University.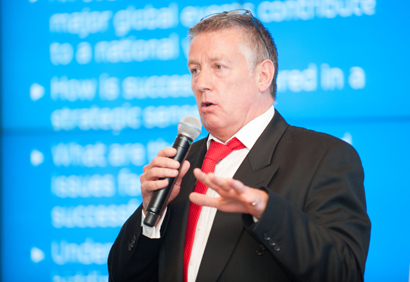 Global events expert Phil Clements believes that Qatar's focus on sporting events and education is the right formula to propel its meetings, incentives, conferences and exhibitions sector into a bright future. (Image Josoor Institute).
As Doha positions itself as a destination of choice for the international meetings, incentives, conferencing and exhibitions (MICE) market, there is a growing need for the city – and the broader State of Qatar – to set itself apart from its regional neighbours. The Josoor Institute is a centre of excellence for the sports and events industries, inspired and developed by the Supreme Committee for Delivery and Legacy with the goal to develop talented young people in the management and organisation of sporting and non-sporting events within Qatar and the Middle East and North Africa (MENA) region. Phil Clements, principal consultant for International Development at Leeds Beckett University in the United Kingdom (UK), recently spent time in Doha facilitating Josoor Institute's professional certificate programme in major events management. Clements spoke to The Edge about the challenges and opportunities faced by Qatar's mega events industry.
Tell us about yourself, and how your experience is being transferred to the Josoor Institute.
We were approached two or three years ago by Josoor Institute to help with the legacy of the 2022 World Cup, upscaling the human resource capability in the whole Middle East and North Africa (MENA) region. With the change in the economics of the region in terms of oil and gas, the Qatar National Vision 2030 accepts that Qatar will have to start looking for new revenues. One of those areas is developing the events sector. We were approached to deliver training and education in this area through a series of short and long courses, which will take place over the next three to five years, leading up to the World Cup. We have delegates from the Supreme Committee for Delivery and Legacy, Doha Film Institute and various educational establishments. We have people from as far as Saudi Arabia, Yemen and all across the region.  Anybody in the MENA region who is interested in putting on major events.
You recently attended a programme run by Josoor Institute in Doha. What was the purpose of the programme?
We developed and delivered the material, and we had teams come through from the UK for Josoor Institute's certificate and diploma programmes. We are the largest faculty in the world dedicated to events management, and we can draw on a lot of expertise. This particular block looked at marketing and communication, the importance of public relations, and so on in the sports and events industries.
When you talk about marketing, do you mean marketing events primarily to the people who are going to attend the events?
Places like Qatar rely an awful lot on the international market, so there is a need to understand the international delegates – whether it be for meetings, conferences or sports events. But we also look at how to deal with sponsors, crisis management, everybody who has an interest in the event. Then of course you have the added challenges of working in this region, with its cultural context and cultural differences.
Qatar is competing against other destinations, in the region and internationally, for these large events. How does it market itself as a destination?
That's really interesting. You can talk about the bidding process, because obviously the 2022 FIFA World Cup went through a rigorous procedure there. The fact is, countries have to prove they have the technical ability to do that – and let's be honest, Qatar has proved beyond doubt that it can hold some amazing sporting events. There are obviously challenges here. Climate is one, but the state-of-the-art environmental air-conditioning that is being put in place is unbelievable. But the other side of it is these other events: cultural events, meetings and conferences. There is a lot of competition with Abu Dhabi, Dubai and even going into Saudi. You have to understand what drives the delegate attendees and the people who book these conferences. What motivates them? What are they looking for? How are destinations like Doha best placed to meet those needs? What will attract delegates is not just the meeting conference: it's the opportunity to network, to meet, to progress careers, and of course the other activities outside those events.
In the MICE industry, there are other services – like catering, for example – that fall into the slipstream of the main event. Does the Josoor Institute have that holistic view, which looks at all those aspects of the industry?
Absolutely. The main attraction is, of course, the mega event. But beneath that, you have the suppliers of everything from food and beverage to security services, protocol services, logistics, and so on. All these things have to be provided. Quite understandably, the region wants to develop its own in-house capacity, and therefore the development of those skills is vital. This is not just for the World Cup, but right up to 2030. The facilities here in Qatar are state-of-the-art. Now all those auxiliary services have to be provided, together with the smaller events. How can they be used to attract people and increase participation right through the board? It is about upgrading everything: suppliers, smaller events, cultural events, and so on.
If you want to create an industry, then you need smaller events to sustain the industry in between the big events.
Exactly, and that will increase the attraction of the destination. On the back of the 2022 World Cup you want people to say, 'Hey, I'd like to go back there. I had the opportunity to taste a bit of the flavour of what's going on. Let's go back for a week.' That would be one of the prime motivations for the World Cup to leverage and develop the tourism industry.
Once the bid has been won, the next step is attracting people to attend the event. How does marketing and PR fit in? Is there a formula?
You've always got the basic principles. First, you have to understand who the customer is. What motivates them? What drives them? What's going to press their buttons in terms of attending or choosing a location? With the MICE market, a potential client – somebody who is going to book a conference – is going to be saying, 'Should I go to Doha, or should I go to Dubai? What's the difference?' There is a difference, and depending on what they are looking for, it's not just based on cost – it's based on quality of service. This is a people industry.  It is  the same with the sporting events. You can bring the big names here, like Federer or Djokovic, and they're going to attract people. But you've got a small domestic population, so you'd have to look outside that – and that has its challenges as well. Event organisers here have to accept they are going to attract international visitors, so they must understand what those visitors are looking for. How do they fit in? What do they need? What can we provide in terms of services?
On a regional level, visitors might be able to attend a number of different events within their interest on the same trip.
It's about synchronising it. If you want people to stay at a destination for longer, then give them a reason for doing that. I remember years ago working in Sydney, Australia, with Tourism New South Wales. They categorically said that they did not particularly want more visitors; they just wanted them to stay longer. So if you can put on a conference here, and tie it on the back of another conference, you'll get people staying. The idea is that if you can get people to come here for conferences, then you can offer the other attractions. I am always amazed that when you come to Doha, there is always something going on in terms of sport.
How does Qatar distinguish itself from other Gulf states? What is its unique selling point?
Two words: affordable luxury. That seems to be the byword for everything in Qatar. In my opinion, Dubai has developed to become more a tourist destination. I hate to say it, but it's a bit like the Disneyland of the Middle East. I think Qatar is looking to focus itself on sport, which reinforces with the World Cup and other fantastic events, and on education. There are many opportunities in Qatar to become a centre for the whole MENA region in terms of education, as we are doing with the Josoor Institute.
Moving forward, what are the major challenges for Qatar in the MICE industry?
With education you have the growth. It is an education city. You have some major, world-leading universities coming here, which can only add to that equity. Sport is a different one. There is quite an emotional level to sport. You have the facilities, and you are attracting big names here. Now it is about saying, 'Well, actually, we want to move into hosting more and more major, world-class tournaments.' The beauty of the World Cup is that, once you have delivered that, you have shown you can do it. That is the proving ground. Qatar has done the Asian Games in 2006, it has run smaller events like the International Paralympic Committee Athletics World Championships in 2015, and it is starting to develop a reputation of being able to deliver. Once you can deliver, it's a snowball: 'We are successful. We can do this.'  
This is an edited version of a podcast interview by The Edge. Listen to the full conversation on The Edge: Business News from Qatar and beyond, available through Soundcloud and iTunes, Ginger Camel Media. 
Like this story? Share it.