Business Interview: Martin Bennett, Regional MD, BAE systems
Martin Bennett, regional managing director, BAE systems, has returned to the Middle East region with greater responsibility to expand their business, but most importantly to build long-term partnership with the governments and local partners. In an exclusive interview with The Edge's Syed Ameen Kader, he shares the areas of operations that he sees have greater potential in Qatar and the region.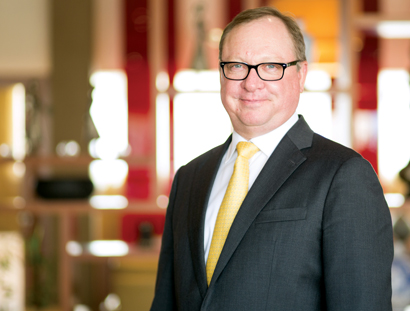 You have been closely associated with the operation of BAE Systems in this region in the capacity of regional vice president. Tell us about your new responsibilities.
The last time I was in the region, I had a responsibility for the Gulf area. I went off and looked after Europe and the Americas as managing director. I have now come back as managing director, and the responsibility has grown somewhat from the last time I was in the area. It starts from Kazakhstan and then goes through Turkey to the Middle East, and then all the way down south to South Africa. And then from the West, it is Morocco, and then from the East, it is Pakistan. So that is what we now call central region. As you can see, the responsibility has grown somewhat.
Just before taking up this assignment, I was managing director for Europe and the Americas.
But now you are back in the region again.
Yes, I am back once again. I have an office in the region, which currently is in Abu Dhabi, and I have one back in the United Kingdom  (UK) as well.  So I am based mainly in the region in the United Arab Emirates.
What are your priorities in this new responsibility?
The mission is, obviously, fundamentally,  to grow our business. It goes without saying to some extent. However, the focus has been very much on looking at our partnership strategy. It is, I think, clear to most that as we go forward, the new paradigm in business, in our business particularly, but in business in general, is more about partnerships and industrial level partnerships. So my focus over the past few months and moving particularly towards the end of the year as we set a strategy going forward into next year, is particularly where we are going to set partnerships, and what kind of partnerships, what area of business are we going to have these partnerships in, and obviously with who we are going to have partnerships as well. So that has been my strategic focus so far.
How do you see the overall growth of this region, especially Qatar, in terms of your market share or your business?
I think it is fair to say that our business in Qatar has been steady. The important thing is that we are here for the long term. Again, it is about partnership. What we want to do is start to build an enduring and sustainable presence, and to do that we know that we have to invest particularly in time and effort, hence Russell Millar (director Northern Gulf), coming over to our office here. We will see, I think, as we go forward, more focus on building partnerships and taking those partnerships together, build business in different areas. As we said, we have four different sectors and in those different sectors, to be frank, who knows what is going to happen in the future? That is mainly down to our customers and what they want, but to be able to build a position here is the number one priority.
Out of these four sectors that you are working on, is there any particular one that has a stronger priority over
the others?
In the region, no. It is reasonably well balanced actually. We have had successes, and we will always hope to have more successes in the future in the air sector – both in terms of military aircraft, which are well documented, and aircraft systems, which are may be not as well documented. So these are systems that go on Original Equipment Manufacturers (OEMs) aircraft and helicopters. Obviously, in the commercial area, we have the Intellicabin (commercial aircraft solutions). So that is obviously for the region and to some extent, even outside of the region. Each set of customers has their own priorities.
What are the other areas or verticals that you are focusing on?
We would be absolutely delighted to get into the areas of, let's say, land systems, which would be a great area to get into. Even the naval systems, as an example, the whole indirect fire piece and naval guns is an area in which we have got a lot of capability and we would like to start dialogues in those areas. Security, particularly, is an area which is of great interest and not the least of which because it provides commercial customers as well. As Qatar grows, particularly in financial services and insurance, it provides us a great opportunity to build and grow our market as Qatar grows its marketplace.
You mentioned security. Do you think the security market is growing due to the 2022 World Cup?
We are obviously very supportive of Qatar's plans and efforts in these events. We have had successes previously, for instance, in the 2012 Olympics. We have systems which have helped in that particular event. Therefore, we believe that they would be very applicable to Qatar, and obviously, we would be delighted to discuss that more with the different customer areas.
Are you having any discussions with any customers at the moment?
What tends to happen is that we call the strategy and will have business units. We have 85,000 people in the company. So, for instance, Russell will help coordinate the particular areas of expertise to link up with the customer experts as well, and then to have those discussions.
You have just won an order to supply 28 Typhoon aircraft to Kuwait. How crucial was this order for you?
Actually, the Kuwait deal is Italian-led. It is not BAE systems-led, it is led by Finmeccanica.
But you have a stake in that company.
In Eurofighter, absolutely. So we are delighted that Kuwait is looking to purchase Typhoon, it will be super. Obviously, as a supplier to Eurofighter, we feel very happy to be able to build an ever-increasing family of Eurofighter users.
It has been a difficult phase for the Typhoon project as not many new orders came through in the recent past. Is there any possibility of you scaling down the production of Typhoon by end of this year?
When I was a youngster, even then the precursors of the Eurofighter were starting. These are very, very long-term programmes. If we had a crystal ball that worked maybe we could provide you with a more accurate answer to your question. One could argue that we have not had orders in, only in the last two years actually, because Oman was in December 2012.
But the analysts are saying that you may have to cut down on the production to make this project sustainable. There was a speculation about you reviewing it by end of this year.
No, we have got a number of years yet. So what I am saying is that it is so far out, one could argue that there is no end in sight, but there is always an end in sight. We will continue to talk to our customers and hopefully have some more success. So that end will be ever increasingly in
the future.
Are there any specific areas of business in Qatar that you think have more potential in the future?
We have the same priorities. The kind of things that excite us at the moment would definitely be in the cyber area. We really want to look at the commercial side of that. We are also interested in some of the more traditional areas of our business. The land systems would be one of them. We would be very interested in developing our relationships in that space. We have got a great capability there so, again, Russell will be building up our relationships on the land side. And then the training is a good business opportunity as well as just the education side. We have been doing this for many years and we have had a great deal of success in the training areas. So it is a real win-win as far as we see it for our customers.
Could you talk about the partnership that you have in the educational sector in Qatar?
We are not a university or a college. We do not offer degrees and that kind of thing. So in the UK, we do a lot of work with our apprentices and we have training colleges for our own apprentices. We take them through, right from the basics to all the way through National Vocational Qualifications. So as a company we do not offer degrees but we encourage our employees to go through various programmes and do further study. But in Qatar, as we do with Qatar university, it is more about inspiring young people and getting them to think, and within schools giving them hands-on projects to learn.
Can they gain some practical experience by attending BAE System's training programme?
They can. We have a very strong apprenticeship programme and graduate programmes. There is no reason why they cannot apply to our current apprentice or graduate programme in the same way that anybody can. We do not, at the moment, as we sit here today, have any specific Qatari-related programmes back in the UK, so internship programmes for Qataris specifically, but that's something we are looking at and you know going forward depending on where we go and what happens, that may change.  
Like this story? Share it.