Qataris buying luxury homes in Dubai increase, says realtor
Purchases of residential units in Dubai by Qataris are governed by investment returns, as well as being a second home for work or holidays, according to a regional real estate firm.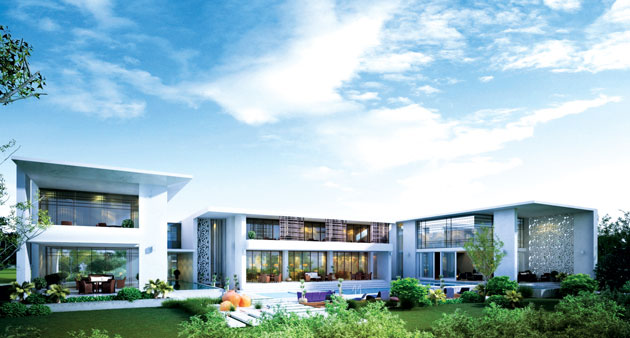 Developments such as this 28-million square foot luxury master unit at Akoya in Dubai are increasingly luring Qatar investors, says a regional property firm.
The Dubai-Doha air journey is currently the seventh most popular international route in the world, according to CAPA Centre for Aviation, and Innovata data. While much of this traffic is ostensibly business related, many Qataris also often visit Dubai for leisure purposes. 
This travel frequency has also corresponded with an increase in Qataris purchasing premium properties in Dubai's residential real estate sector. 
So says Niall McLoughlin, who is the senior vice president of Damac Properties in The United Arab Emirates (UAE). "Qatari investors are looking for unique destinations that are with a dynamic business centre and offering touristic attractions, shopping, fine dining and quality hotels, it's definitely Dubai," he said.
While the motivation to invest in Dubai's real estate may be driven by capital returns, purchases of luxury residential units often have a thrust of having a second home in Dubai, added McLoughlin. "Many Qataris, who regularly visit Dubai, are looking to own their own place, so the market trend is moving heavily towards luxury serviced apartments and serviced villas, as they provide a home-away-from-home where the whole family can experience homely comforts and top class service," he said.
"Qatari investors are looking for unique destinations with a dynamic business centre and touristic attractions." – Niall McLoughlin, Damac Properties.
As always, the location of the property plays a key role in the overall decision of investors from Qatar, explained McLoughlin further. Matching the type of niche in luxury residences, Qataris often prefer to have their properties in prime locations. 
"We have seen overwhelming interest in luxury serviced living in the Burj Area of Dubai, which attracts more than 65 million visitors a year and has become the central hub for both visitors and tourists," said McLoughlin, also mentioning Dubai Marina as another location which saw the highest transaction activity and price increases last year, according to the Real Estate Regulatory Authority (RERA).
While having a second home in Dubai may be the driving motivation behind a residential purchase, its value for money and worth over the years cannot be ruled out of a buying decision though, reasoned McLoughlin. 
"Dubai offers unparalleled investment advantages that qualify it to be on top of the list for most investors in the Gulf Cooperation Council and worldwide," he said. "At the same time many international investors choose Dubai as a second home or holiday home."
Like this story? Share it.